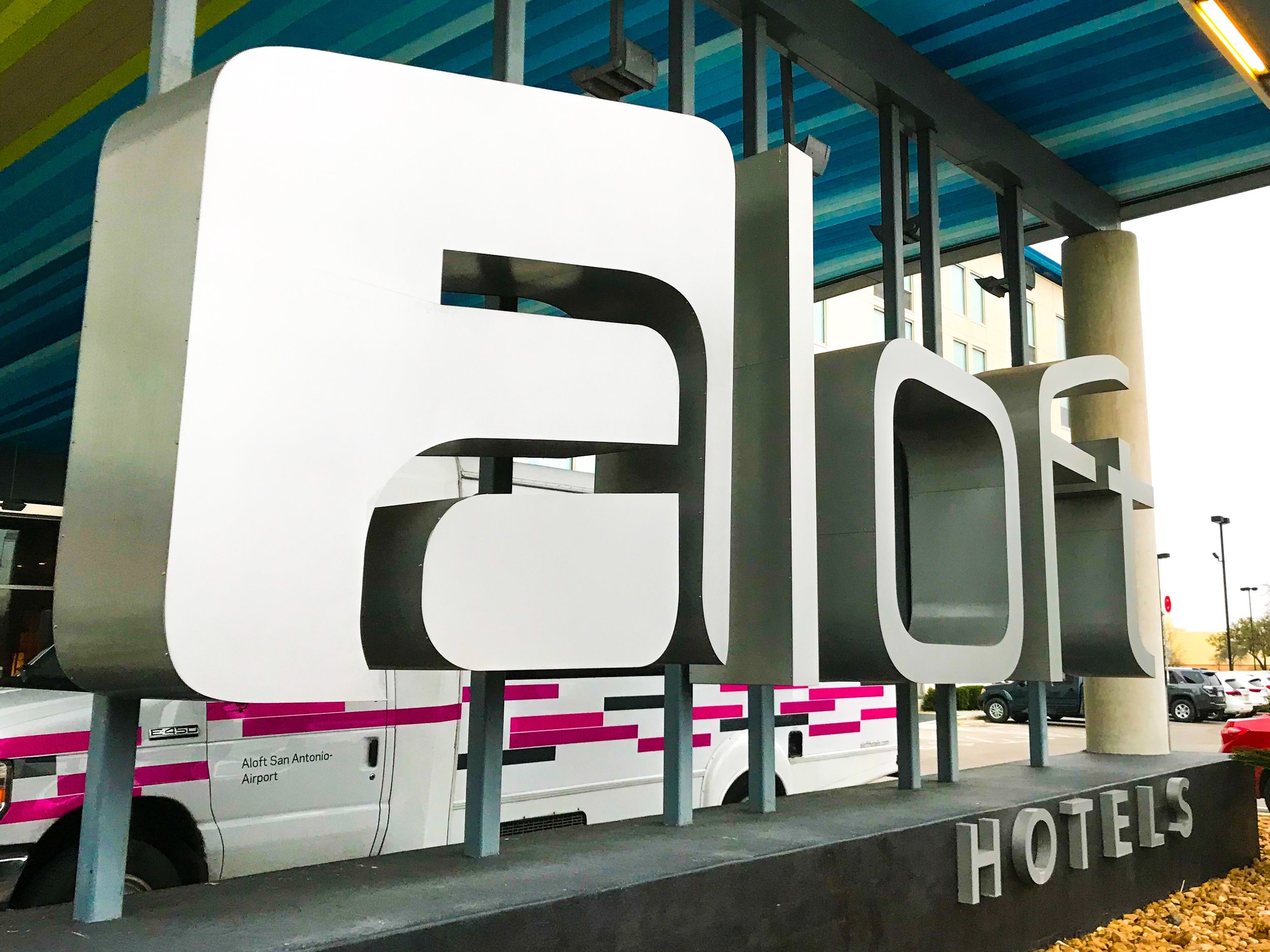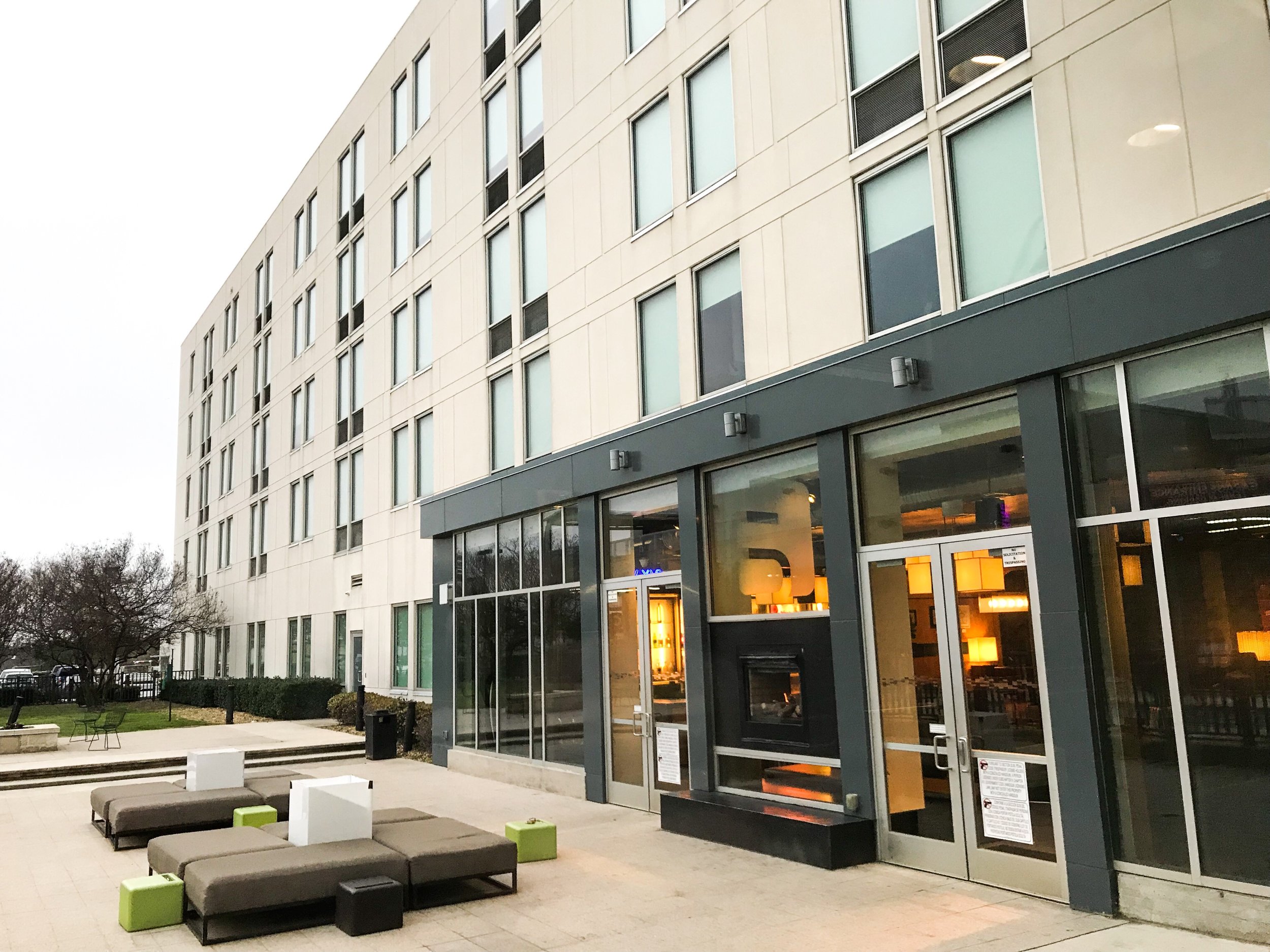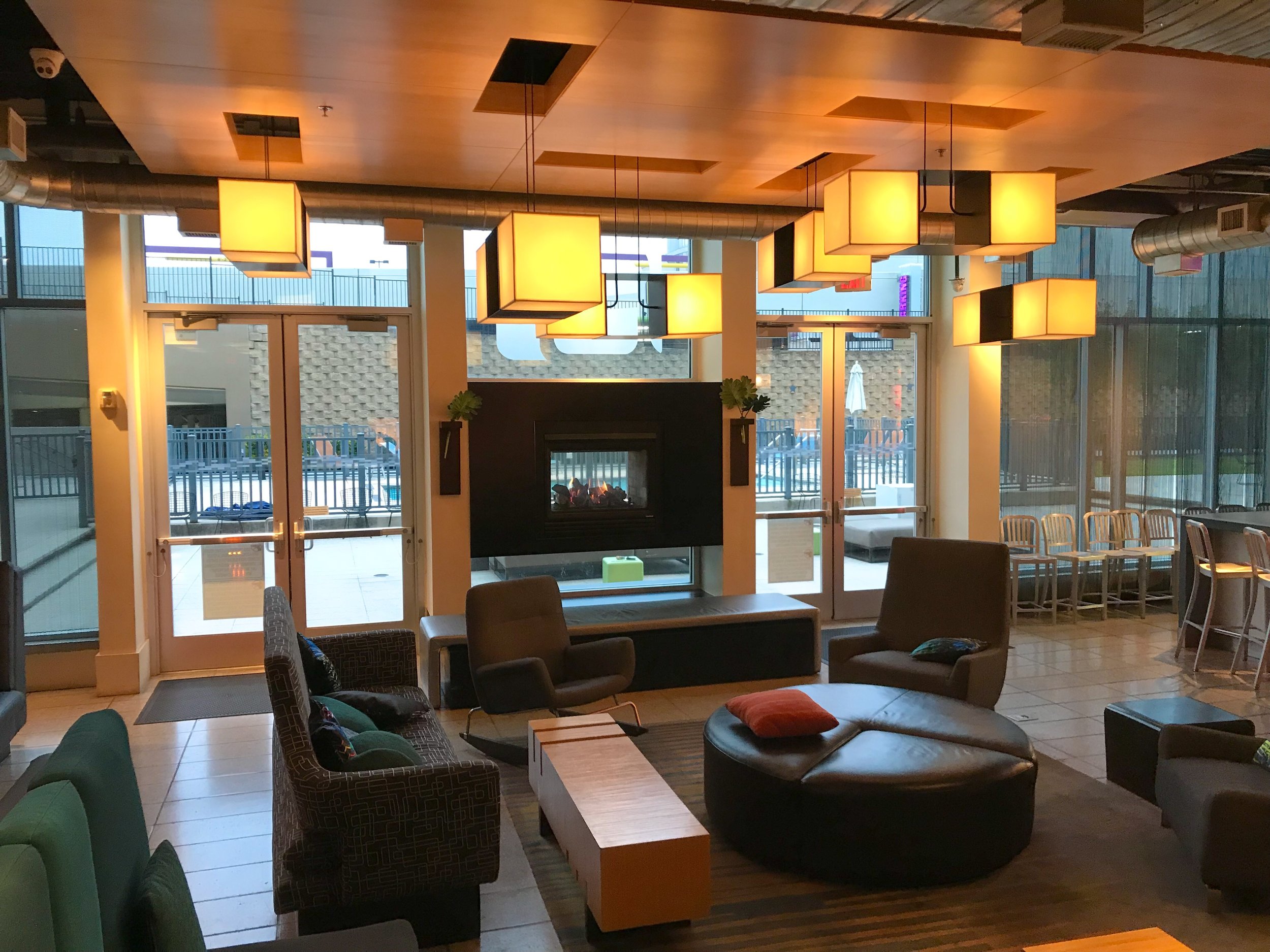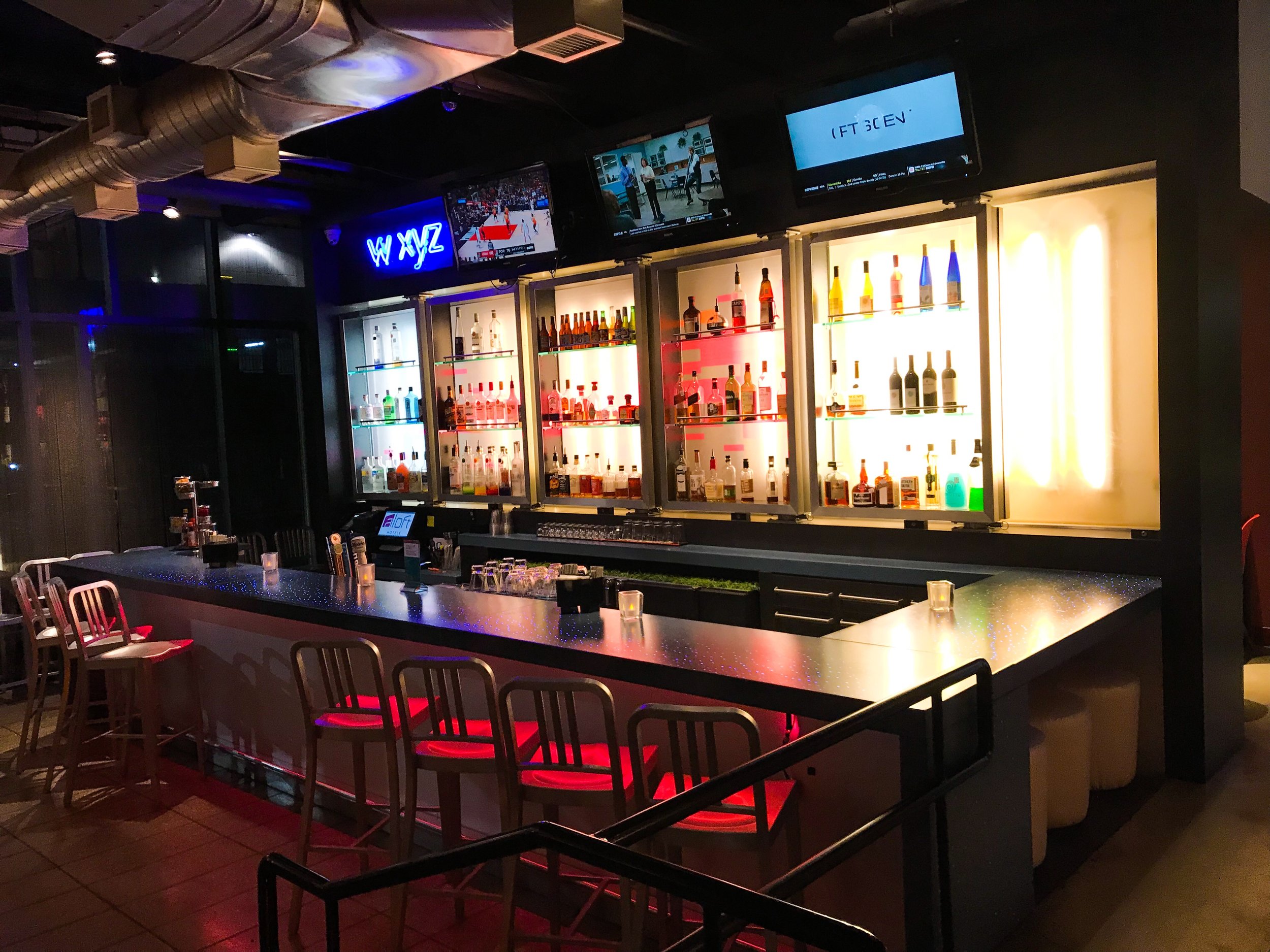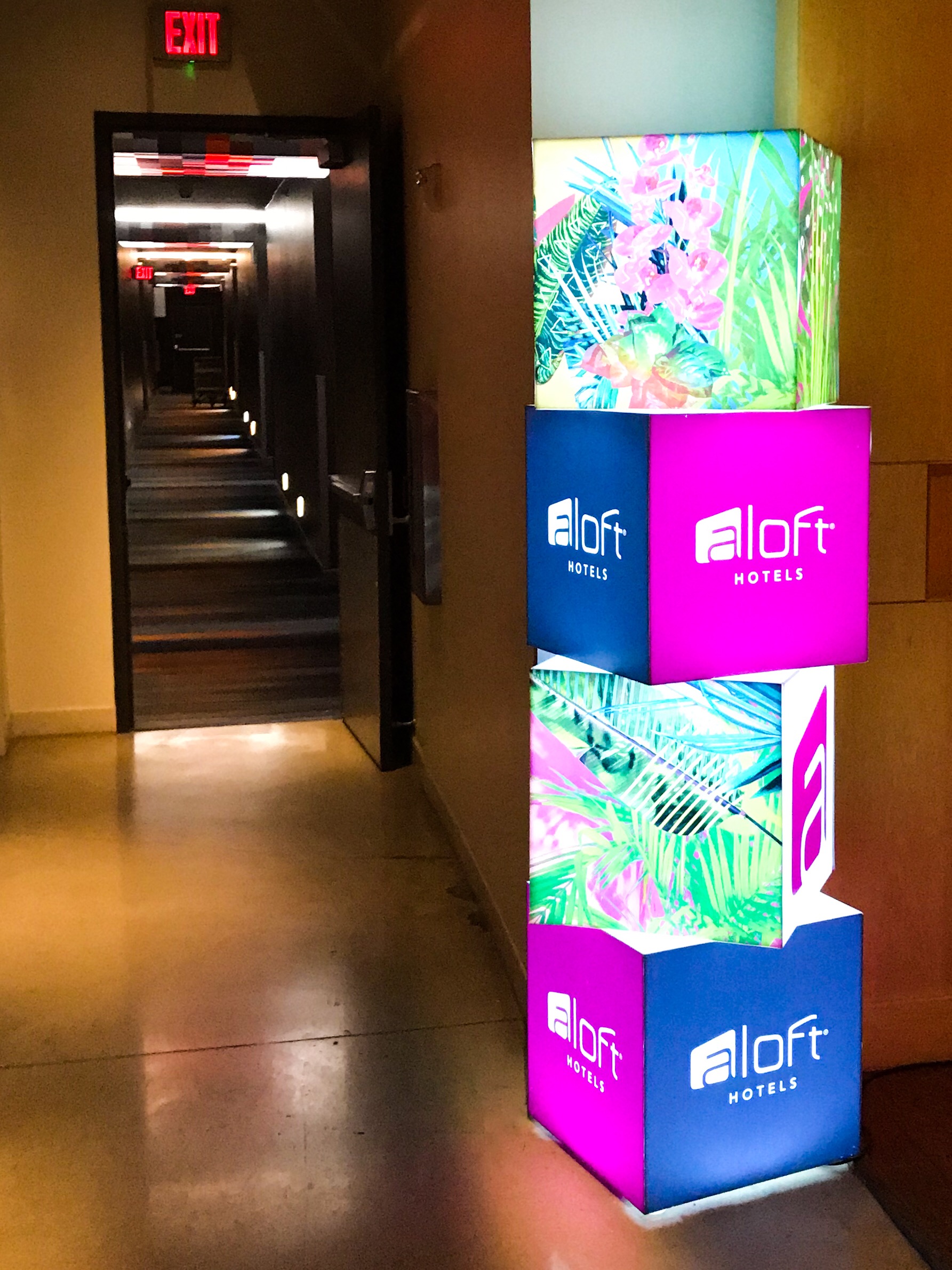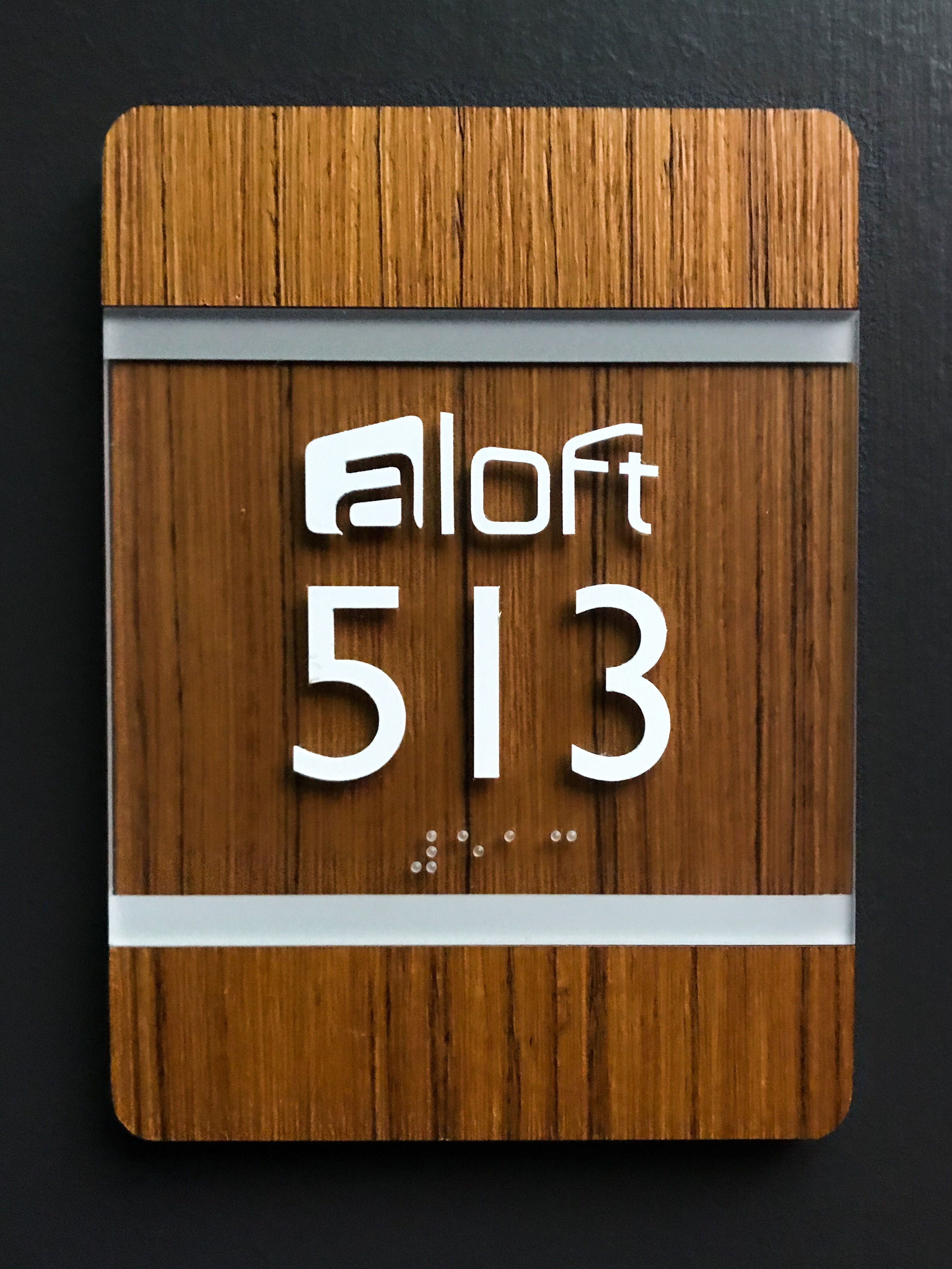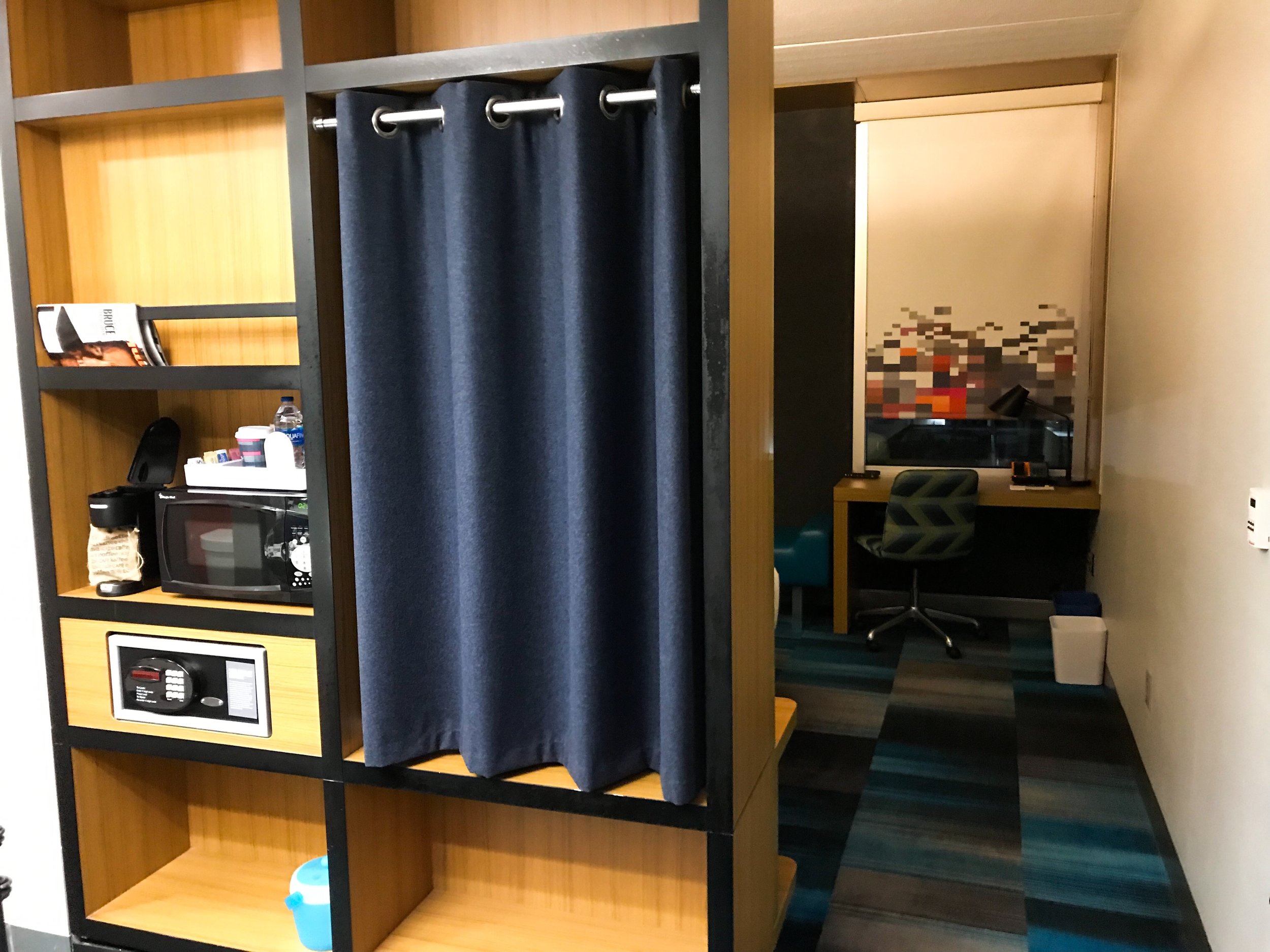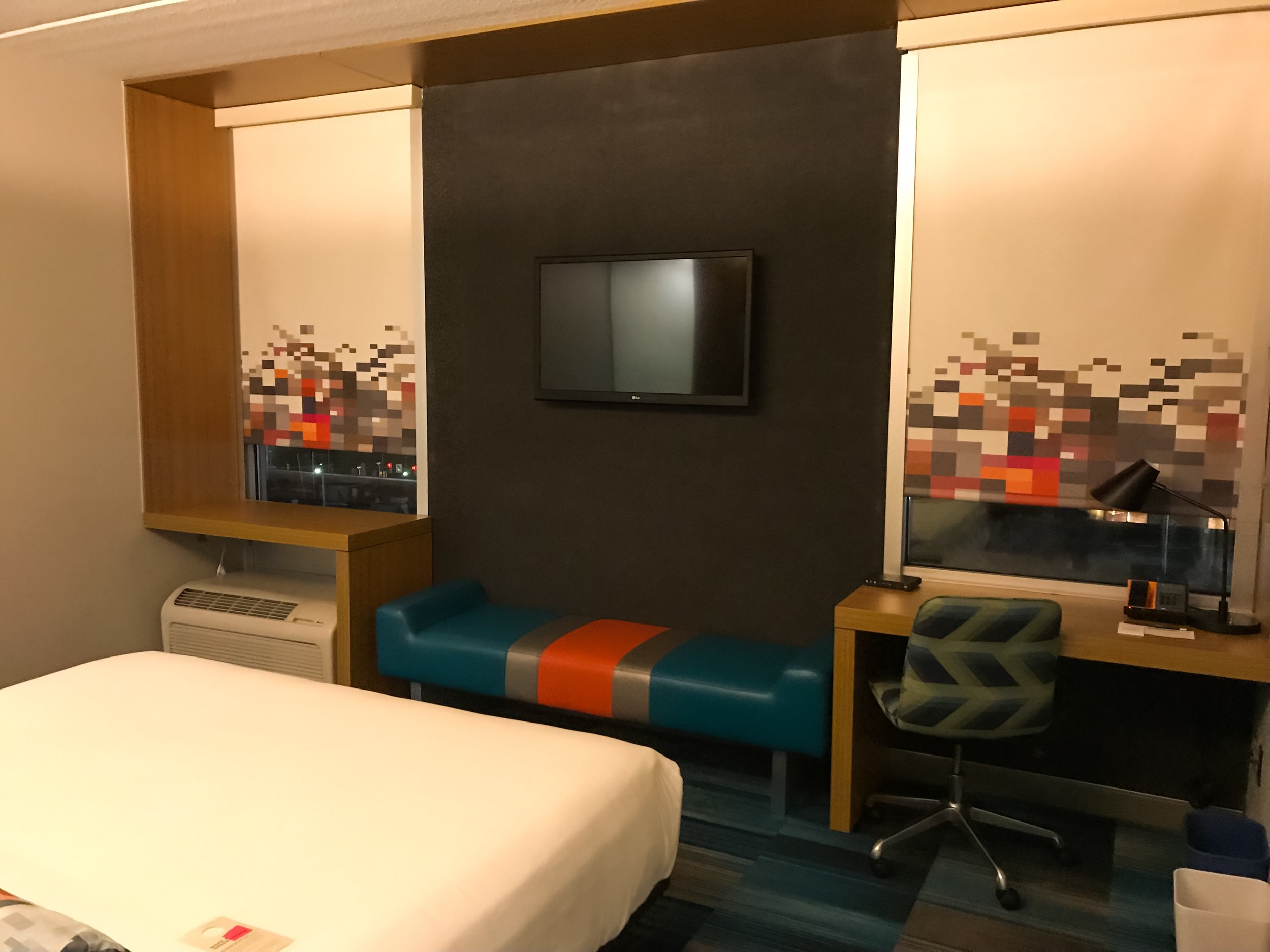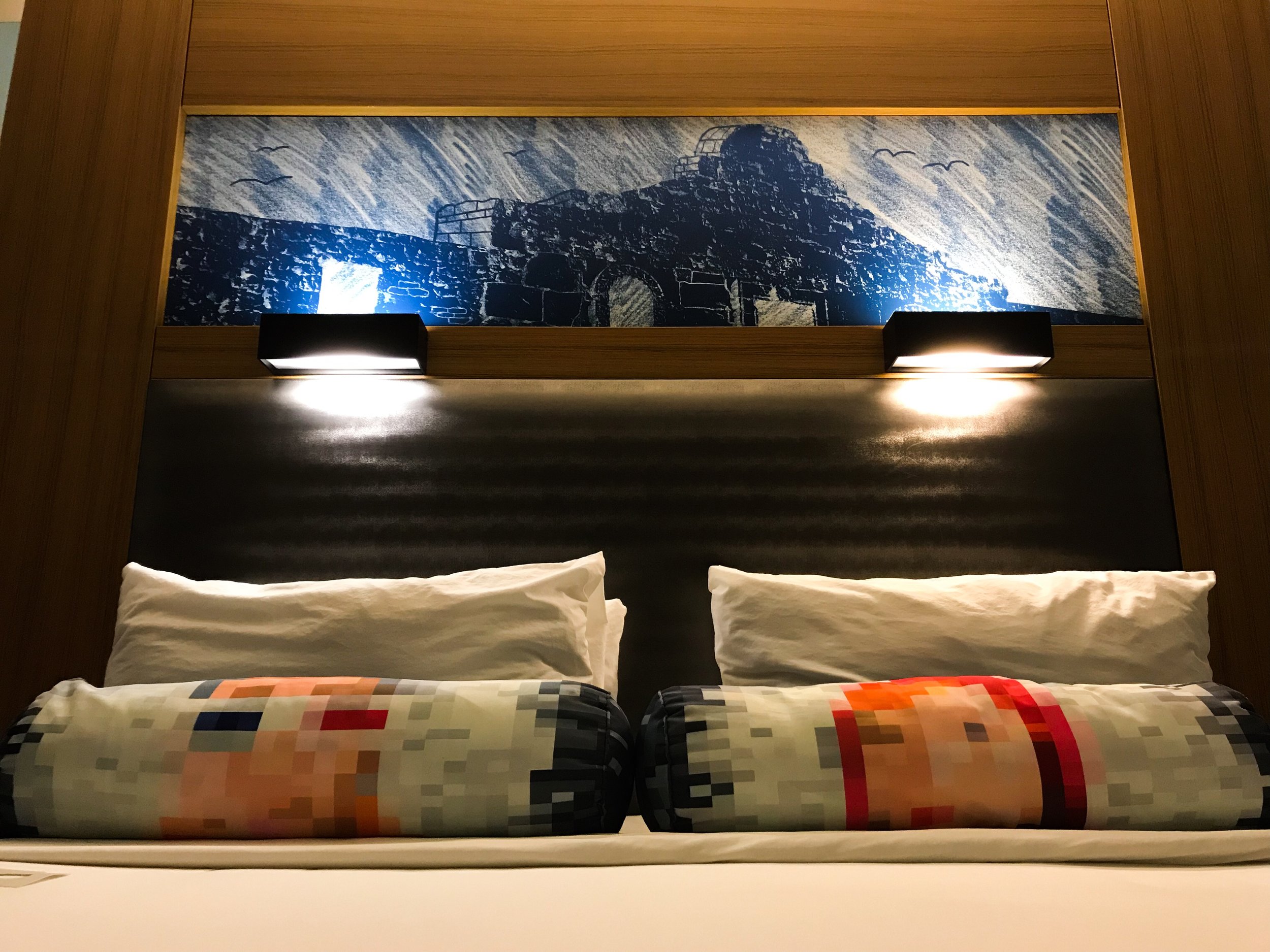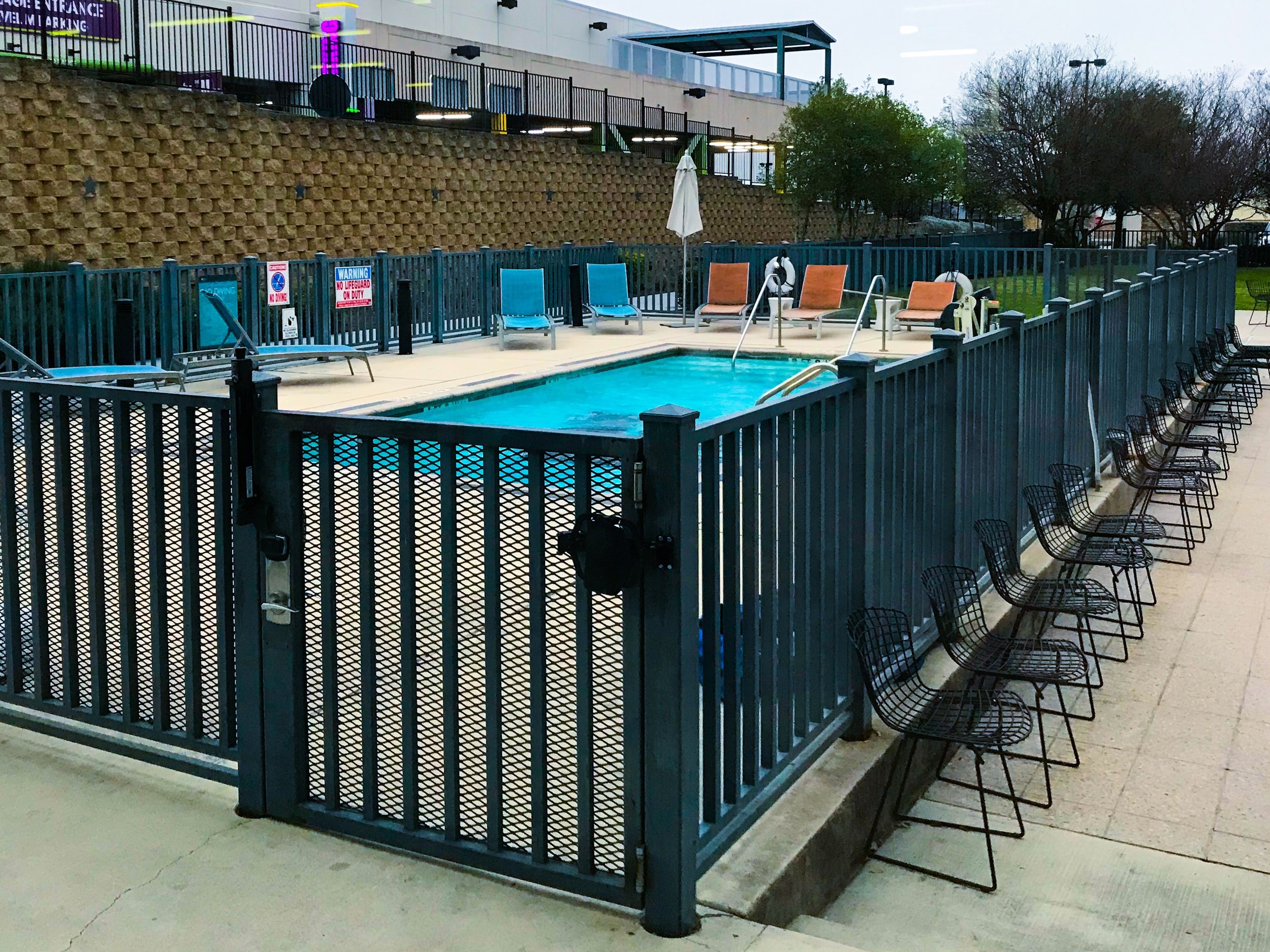 The Aloft San Antonio Airport, a Bonvoy Rewards Category 3 hotel, is located less than five minutes from San Antonio International Airport. There is a complimentary hotel shuttle or on-site parking. I called the hotel after I received my luggage and was told the shuttle was on a rotation and it wasn't necessary for me to call - but if you stay here it wouldn't hurt just to be sure.
This was my first time staying at an Aloft property and I honestly didn't know what to expect. The staff was very friendly and the check-in process was seamless. The property reminded me of a Moxy Hotel, with the one big difference that there is a distinct check-in desk, unlike at Moxy where you check-in at the bar.
The room was clean, though very minimalist and seemed slightly dated (I think it was all of the faux wood). There were power outlets and USB charging ports conveniently located next to the bed and reading lights on the headboard. The bathroom had a single sink, but a large counter top and a large walk-in shower. There was a small closet in the room, right next to the microwave and coffee station.
The bed was very comfortable and I fell asleep almost immediately. However, I was awakened sometime in the middle of the night to the sound of a conversation that seemed so close it could have been in my room. Once I was a little more awake I got out of bed to see where the noise was coming from. I was surprised to find light streaming into the room from the small cracks in the ceiling panels, right where it met the wall. That was also the genesis of the noise - I could hear my neighbors conversation clearly, as if they were sitting right next to me. And they weren't being loud by any means, they were just talking normally, as anyone would in a hotel room without fear of a noise complaint. I slept off-and-on after that and never really did fall back asleep soundly.
Aloft does not have a restaurant for breakfast, but they do have a few grab-and-go options in the lobby. As a Marriott Elite member, I was entitled to a meal credit, but nothing looked terribly appetizing so I forwent it and decided to find a coffee shop instead.
Overall Impression: My initial impression of the hotel wasn't bad, until I was awakened in the middle of the night and found that the wall clearly wasn't fully covered from the room next to me. Now, I don't know if that was just limited to my particular room, but it will definitely make me choose a different hotel next time I need to stay by the airport.
Regarding the brand - as I've said before in previous reviews - I prefer full-service brands (I.E. Marriott or Westin). Marriott classifies Aloft as a Select hotel, in the same classification as Courtyard, Fairfield Inn, and Moxy (among others), so you know what to expect. If you're looking for a more contemporary, social experience, Aloft is great. However, if you're looking for a more classical, business travel experience, Aloft isn't your brand.