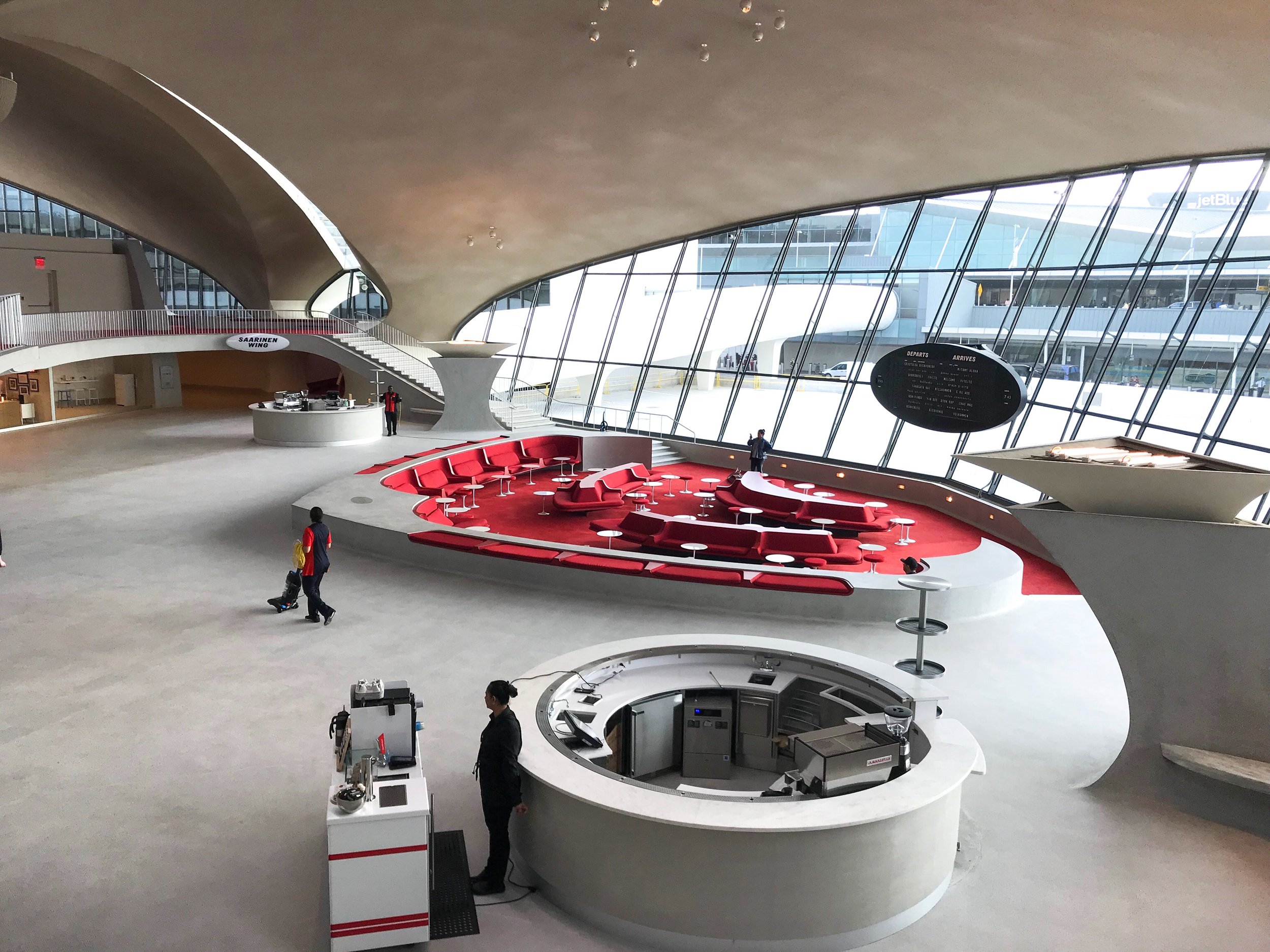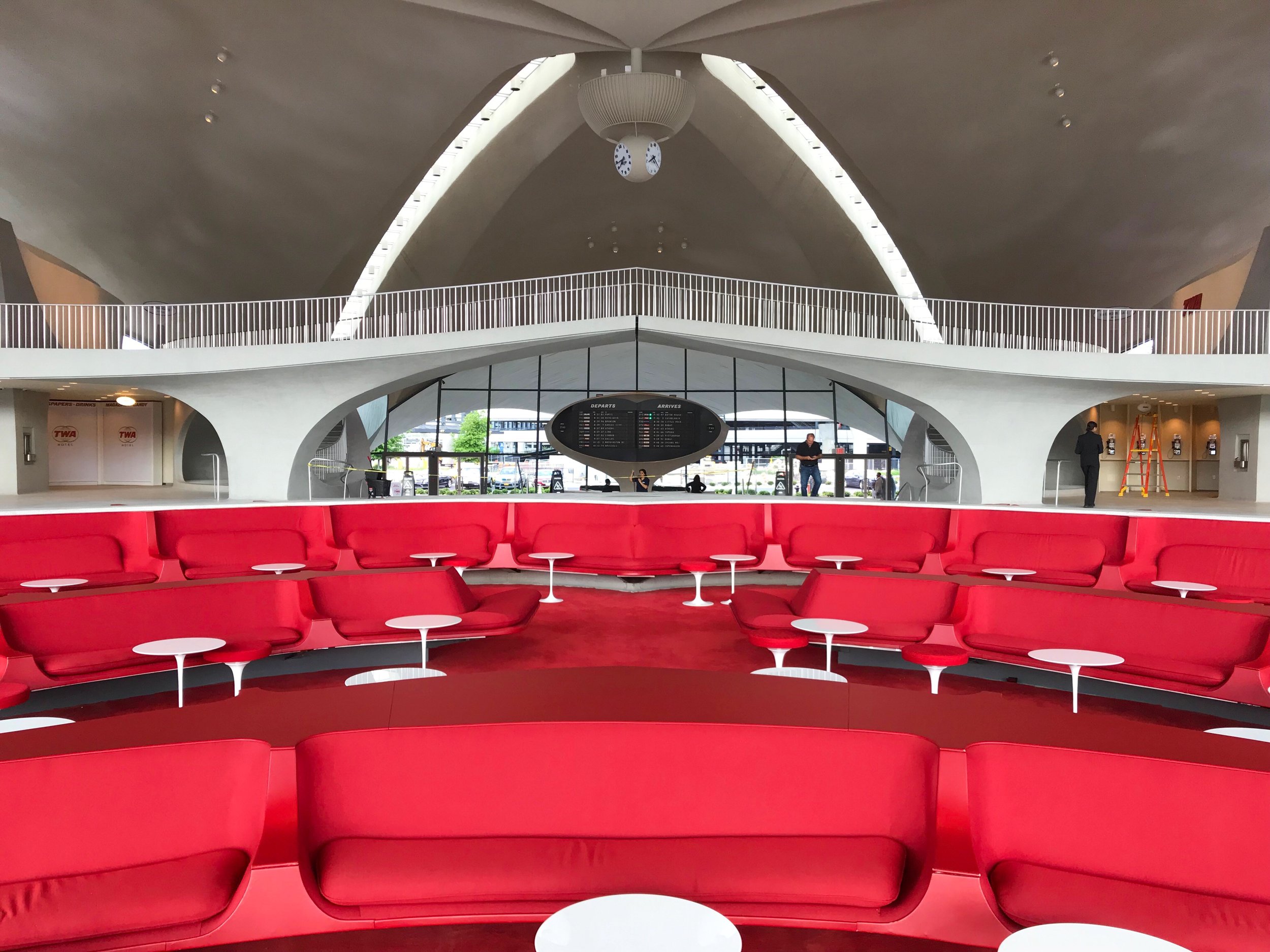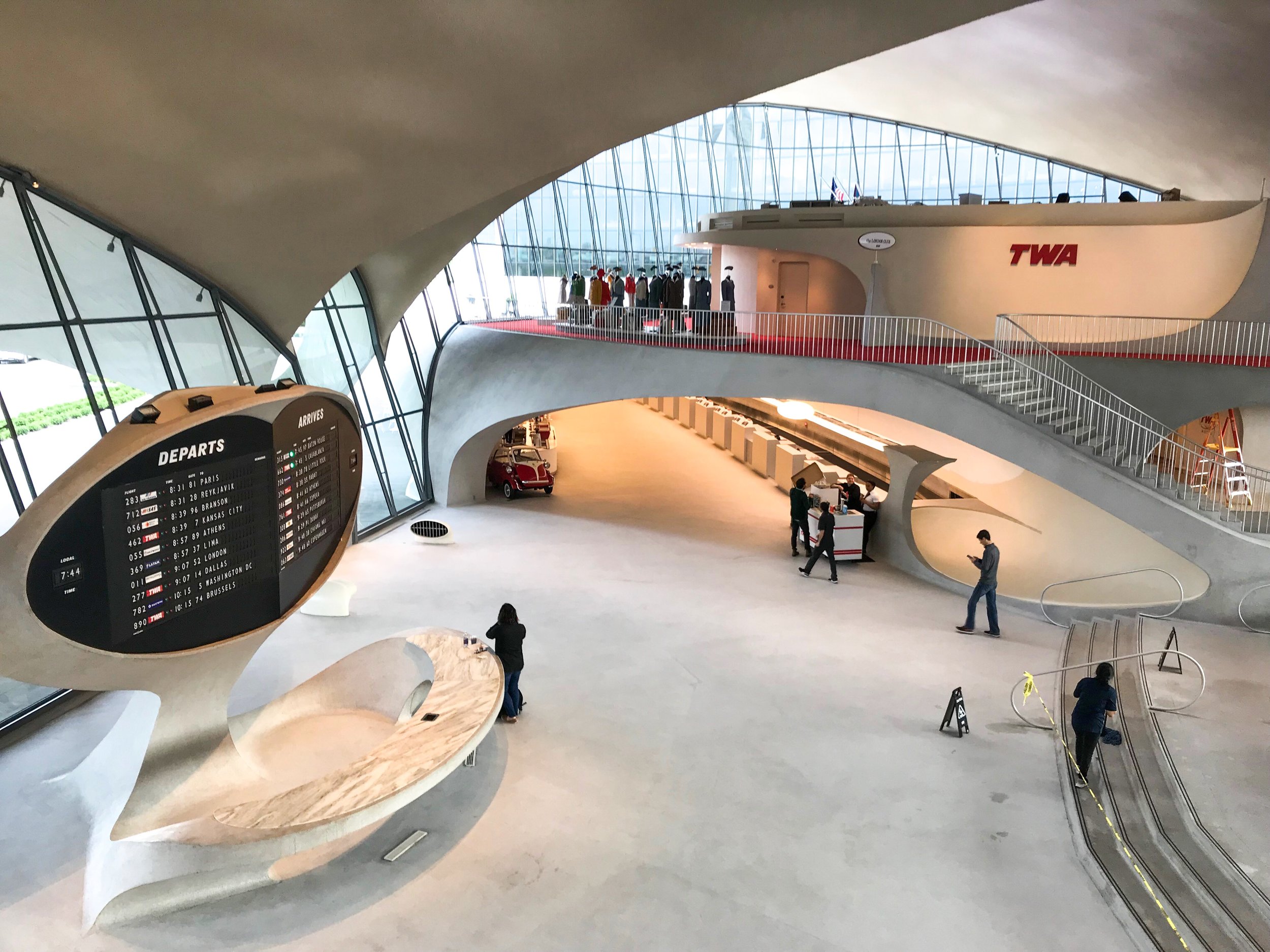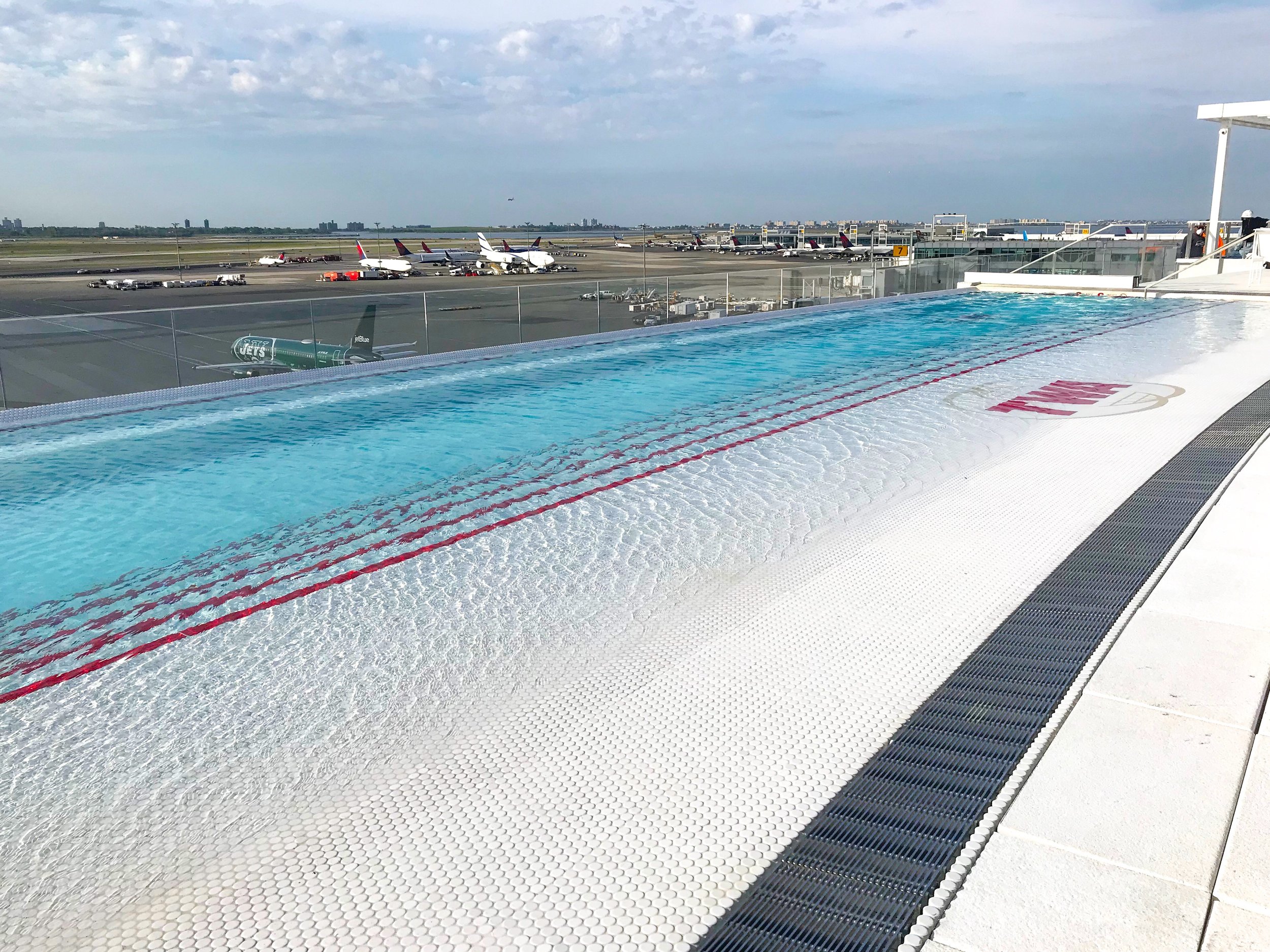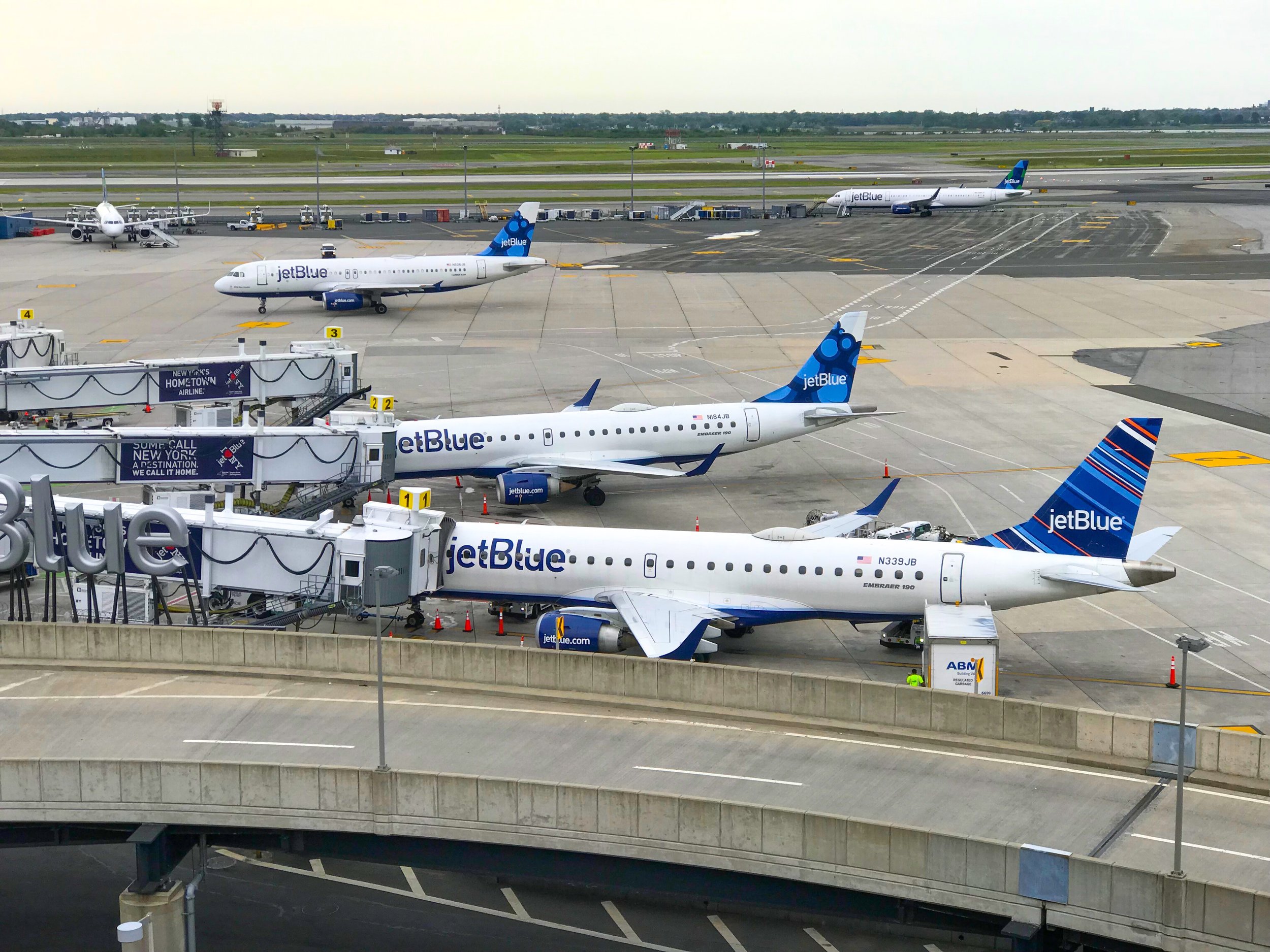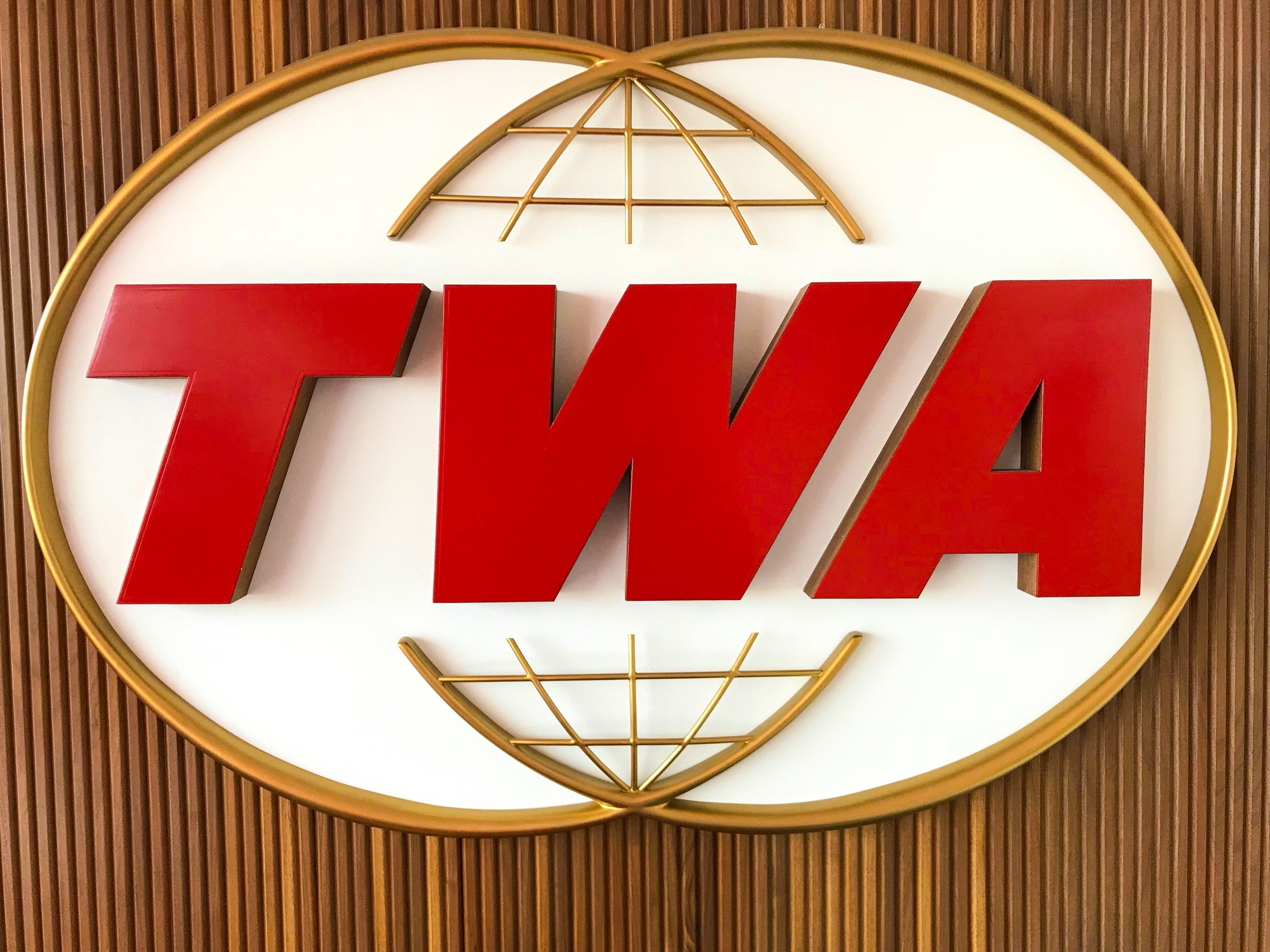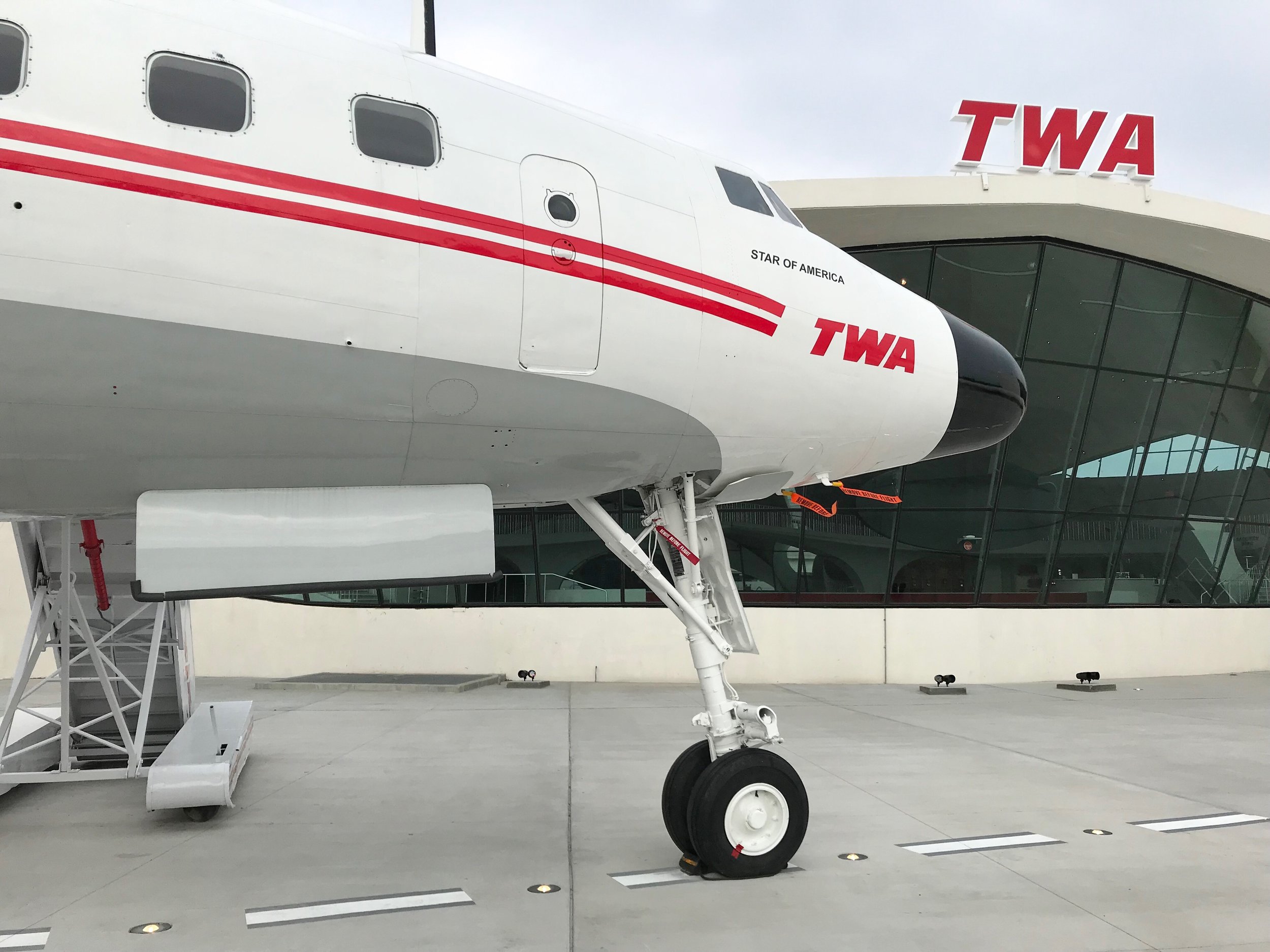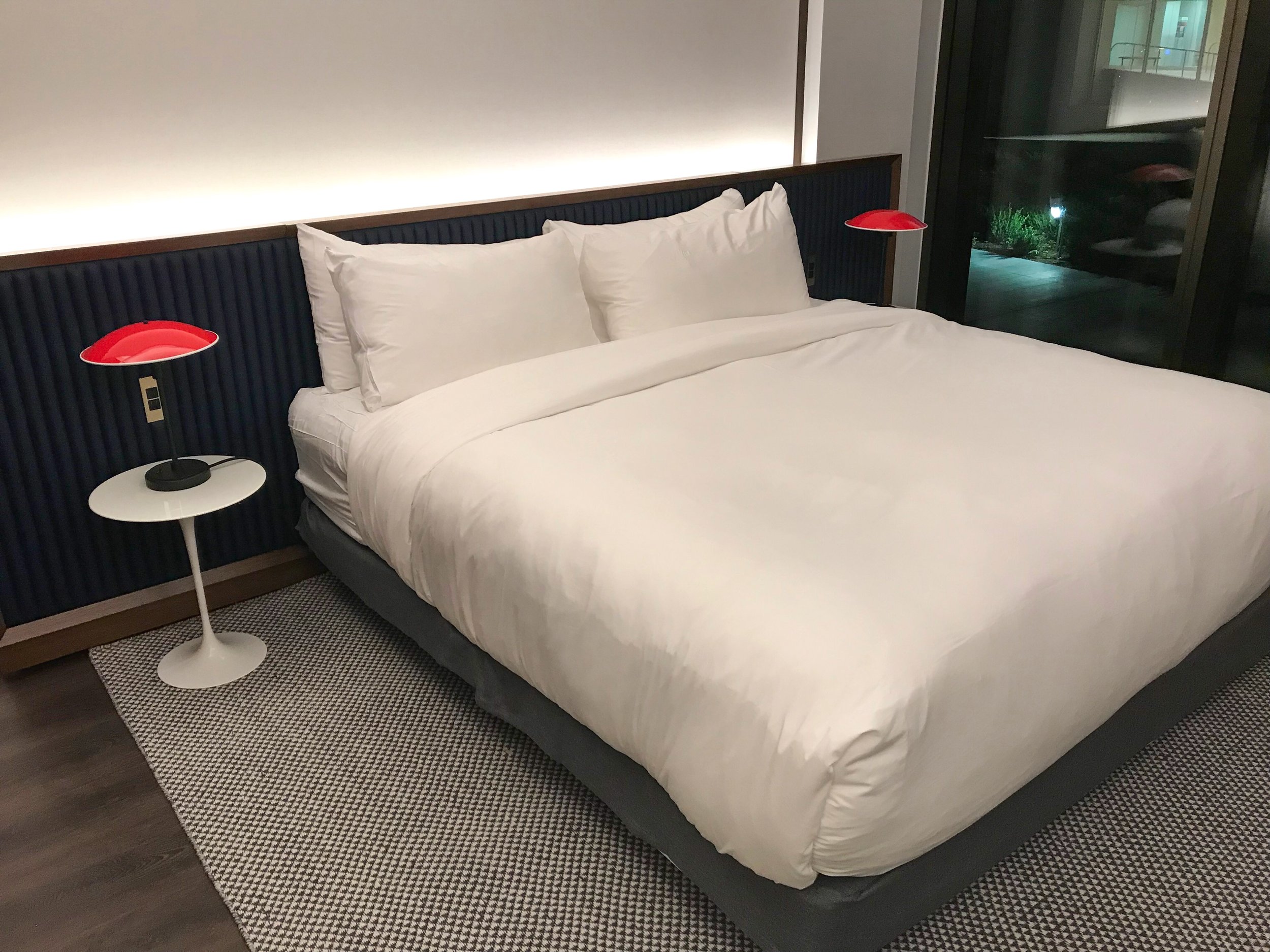 About the Hotel: The TWA Hotel is the only on-airport hotel at JFK International Airport in New York City. It opened in 2019 in the historic Eero Saarinen designed TWA Flight Center. The TWA Flight center operated at Trans World Airlines' main intercontinental terminal from 1962 through its close in 2001, where it sat vacant until the nearly $300 million dollar redevelopment project gave it new life as an upscale hotel.
Rates: Nightly rates are dependent on dates and room type, but are typically between $200 and $300 (as of May 2019).
Airport Access: The hotel is connected to JFK Terminal 5 through the old concourse walkways. T5 is accessible from all other terminals and the NYC Subway via the AirTrain. Visitors do not need to be hotel guests to view the lobby and historical exhibits.
Parking: The hotel only offers valet parking. Check the website for current prices. Guests may also utilize airport parking lots and either walk or take the AirTrain to the hotel.
Executive Lounge: The TWA Hotel does not have an executive lounge.
Other Amenities: One of the Crown Jewels of the TWA Hotel is the heated rooftop infinity pool overlooking the parking apron between T4 and T5. The outdoor terrace also features a bar. There is an on-site gym.
Dining: There are several restaurants and cafés on the property. However, most of the dining establishments require advanced reservations, even for hotel guests, so book in advance. The food is rather pricy.
Officer Wayfinder's Review: This property is a MUST VISIT for any aviation fan, even if you aren't staying the night. If you have a JFK layover of 90 minutes or more, take the time to at least do a quick walkthrough of this incredibly well done time capsule. Even if you aren't an aviation fan, it is still a great hotel if you have an overnight layover.
The developers did a wonderful job of capturing all of the historical elements of the TWA Flight Center. The attention to detail on the TWA brand is exemplary - a true homage to a storied airline. I don't think anyone expected the brand would resurface in such a way when TWA merged with American in 2001. TWA's legacy lives on thanks to this well manicured exhibit that doubles as a hotel.
Aside from the aviation aspect, it is a very good place to spend the night. Though it has a relatively high nightly rate, it is competitive with most offsite properties and offers an added level of convenience. The room was welcoming and comfortable, and there was no shortage of TWA branding throughout, a constant reminder of where I was staying.
It's hard to pick a favorite thing about this hotel, because I loved almost everything about it. Though if I have to put my finger on one or two, it is either the rooftop infinity pool or the Lockheed Constellation parked outside the lobby.
There are a few minor discrepancies I noted during my stay. The website is very lackluster and feels cheap. It doesn't do this incredible hotel justice. I also noticed a few places inside the newly constructed wings that appeared to have water damage (photos below). Additionally, the rooms don't have any USB charging ports. This is a minor inconvenience, but still surprising for a hotel that opened in 2019. Finally, room service is not offered 24/7. So, if you check-in late at night (as I did), there are little to no food options other than the small mini-bar in the room.
In spite of the minor drawbacks, the developers and hotel management can be extremely proud of what they have (re)created. I only hope the glamour and excitement doesn't fade. I will definitely stay at this property again and can't recommend it highly enough.